THE BEST TEACHERS SHOW YOU WHERE TO LOOK,
THEY ​DONT TELL YOU WHAT TO SEE.
SupAcademie
 is opgericht door professionele suppers van het eerste uur. Een perfecte combinatie van professionaliteit, ervaring en bevlogenheid voor deze sport. Deze dames kunnen niet stilzitten en zijn de enthousiaste Opleiders van SupAcademie. Hun doel is om het enthousiasme voor stand up paddle met zo veel mogelijk mensen te delen en bij te dragen aan een professionele en veilige watersport voor jong en oud. 
Marleen
Marleen is oprichtster van SupClub Nederland en heeft een actieve levensstijl waarin reizen en watersport centraal staan. De zee is haar passie en ze heeft haar sporen verdiend als duikinstructrice en kite- en golfsurfer. Marleen overwintert in de tropen, waar ze elke dag in de golven te vinden in. Opgedroogt, besteed ze de tijd aan het optimaliseren van de Sup Instructeurs Opleiding, op zowel praktisch als theoretisch vlak. In de zomer runt Marleen met haar team meerdere supscholen en geeft ze zowel de Sup-, als de SupYoga Instructeurs Opleiding.
Aukje
Aukje is een ervaren watersporter, dol op reizen en skiën, en een geboren en getogen Friezin. Naast haar passie voor het suppen en het runnen van haar supschool SUPAway in Grou werkt zij nog 2,5 dag voor ROC. Een echte sportieveling dus! En nog avontuurlijk ook, want ze organiseert Women Only Ski- en Sup reizen. Daarnaast zet ze zich, als co-founder en lid van Stichting SUPclean-up, samen met Janneke in voor schone(re )waterwegen.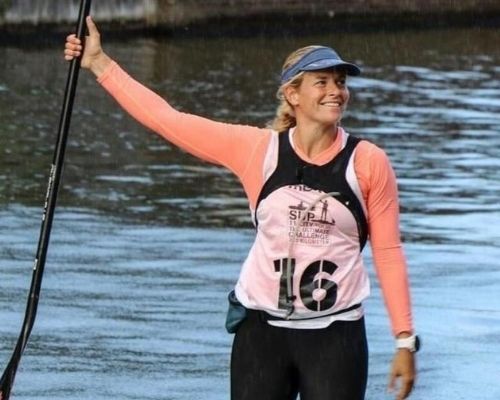 Janneke
Janneke is een doorbijter en sinds dag 1 betrokken bij de supsport. Ze is wereldrecordhouder lange afstandsuppen en heeft 4x de Non-stop Elfstedentocht (220km in 24uur) volbracht waarvan ze deze 3 wist te winnen. In 2021 staat de Yukon 1000Mijl op de planning waar ze de 1600 kilimoter lange Yukon rivier in Alaska bedwingt met haar sup.
Aan techniek en verstand van materialen geen gebrek bij deze sup 'gek' 🙂 Naast het runnen van haar supscholen, heeft ze met Supboardshop.nl een van de grootste sup verkoop punten van de BeNeLux. Bovendien heeft ze een bevlogen passie voor schoon water en is ze daarom de inmiddels beroemde en succesvolle SupClean-Up stichting gestart. 
Wiekene
Yogakoningin en Supknaller Wieneke vertrekt naar Hawaii om SUPyoga te leren van de echte maestro's op de Grote Oceaan. Om vervolgens in Limburg meerdere sup scholen op te zetten. Naast vele sup workshops en originele supyoga lessen geeft Wieneke samen met Marleen  de enige erkende Sup Yoga Instructeurs Opleiding van de BeNeLux.
Én Wieneke is een bezig bijtje, want je kunt met haar op Sup/Surf en coachings reizen! Van Maastricht tot Fuerte Ventura, Wieneke neemt je mee op sportieve avonturen inclusief inzichten 🙂
​Oja, en ze schrijft ook nog boeken!